Shopping Cart
Your Cart is Empty
There was an error with PayPal
Click here to try again
Thank you for your business!
You should be receiving an order confirmation from Paypal shortly.
Exit Shopping Cart
Maryland Estonia Exchange Council, Inc.
By David Anderson
The Aegis
May 26, 2017 8:32 a.m. ET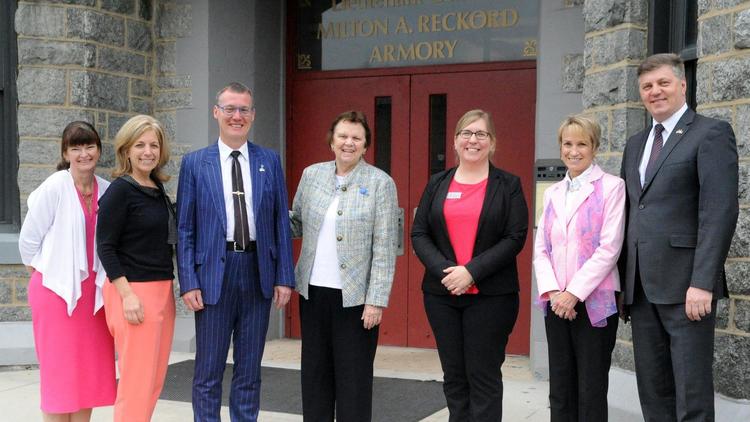 Narva, Estonia, Mayor Tarmo Tammiste, third from left, and Deputy Mayor Vjatseslav "Slava" Konovalov, far right, stand outside the Bel Air Armory Tuesday with Bel Air sister city committee members who are, from left, Julie Siejack, Patti Sterling, Barbara Tower, Annie Kovach and Tina Zimmerman. (David Anderson / Aegis staff /Baltimore)
The mayor and deputy mayor of Narva, Estonia, which has a sister city relationship with Bel Air, took a whirlwind tour of sites throughout the town and Harford County this week as two communities separated by thousands of miles continue to build cultural and economic ties.
The two visitors also dismissed any concerns about a return to dominance over their country by Russia, their next door neighbor, saying the countries have learned to co-exist over centuries.
Mayor Tarmo Tammiste and Deputy Mayor Vjatseslav "Slava" Konovalov arrived Sunday night and left Wednesday, according to Patti Sterling, the Town of Bel Air liaison for the Bel Air-Narva Sister City Partnership Committee.
They spent their short time visiting Annapolis, Washington, D.C., and multiple locations in Bel Air and Harford County, including the Bel Air Armory, the Liriodendron Mansion, Rockfield Manor, Harford Community College, University of Maryland Upper Chesapeake Medical Center, the Bel Air Library, the Edgewood Area of Aberdeen Proving Ground, the Harford Artists' Association in Bel Air and downtown Bel Air.
"We thought, overall, it was a very successful trip in that they not only got to see a lot of Bel Air and Harford County, but we had the opportunity to talk about future initiatives and really had the opportunity to cement our sister city relationship with them," Sterling said Thursday.
She stressed the partnership is not just between the two municipal governments but on "multiple levels."
"The partnership isn't just with the town," she said. "It's with everyone in the town."
Narva, which has a population of about 60,000, is the third-largest city in Estonia.
Estonia, along with Latvia and Lithuania, is one of three counties on the Baltic Sea, often referred to as the "Baltic States" that were taken over by the former Soviet Union after World War II broke out in Europe. The three countries remained under control of the USSR until it broke apart in 1991.
Narva sits on the Estonian-Russian border, separated by the Narva River. Tammiste, the mayor, noted the bridge connecting Narva and Russia is called the "bridge of friendship," a name that dates to the Soviet era.
Tammiste and Konovalov gathered with committee members and town officials in the second-floor conference room in the Armory for a lunch break Tuesday afternoon.
Committee member Julie Siejack, a representative of Upper Chesapeake Health, said photos she has seen of the Narva River bridge remind her of local bridges across the Susquehanna River connecting Cecil and Harford counties.
Tammiste said this week's trip was his first visit to the United States.
"I'm really glad, and I've had good contacts with the people and I'm sure that we have a good future together," he said.
Konovalov called Bel Air "the most beautiful town I've ever seen" and said he has developed "a personal attachment" to the community.
"The people have shown us hospitality, friendship, love," he said. "There is a different kind of attitude to this city ... because of the effort that the committee members have put into the relationship."
Bel Air and Narva have had a sister city relationship since 2014, when the partnership agreement was signed during a Skype session.
The online video communication service was created in Estonia.
"You're looking at two gentlemen who represent the country that invented Skype," Bel Air Town Administrator Jesse Bane said Tuesday at the Armory, indicating the mayor and deputy mayor.
People in both communities have been working during the past three years to build cultural, economic and educational ties.
"We are looking for exchanges back and forth across the great pond and even further than that," said Bane, who chairs the sister city committee.
Barbara Tower, a committee member who represents the Community College of Baltimore County and sits on the Maryland-Estonia Exchange Council, said she has visited Narva during its annual Narva Days celebration of the founding of the city more than 700 years ago.
Tower said she experienced "wonderful hospitality and a warm welcome."
The next visit to Narva will include six HCC nursing students and three advisers — those advisers include Tower, a professor emeritus at CCBC, Siejack, the hospital's clinical nurse manager for community health improvement, and Tina Zimmerman, a professor of nursing at HCC.
The trip is scheduled for late November and early December, according to Sterling.
The students will work with high school students in Narva, using a curriculum the HCC students developed, to educate them about treating and preventing the spread of HIV, the virus that causes AIDS.
Organizers plan to leave the curriculum with the Narva students so they can continue teaching their fellow youths, plus bring lessons learned back to the U.S. to educate youths in Harford County about sexually-transmitted diseases.
"This is not just about nursing," Zimmerman said. "This is about a much more global perspective."
Harford County Councilman Jim McMahan, who represents Bel Air and the surrounding area, discussed the sister city relationship during Tuesday evening's council meeting.
He said officials have "tentatively struck a deal" to bring artworks from Narva to display in the Liriodendron Mansion in the summer of 2018.
"This is something that, a couple of years ago, was unheard of," McMahan said of the exchange.
He said the display could draw people from Baltimore, Washington, D.C., and Philadelphia, but "our only stumbling block" is helping the Estonians cover the estimated $15,000 cost to ship the art to Bel Air.
"We will need the help of certain people who can supply us with the capital necessary," McMahan said.
He noted "it will be one of the premier visitations to Harford County, if we can pull this off."
About 75 people attended a panel discussion on Narva at HCC Tuesday evening. Tammiste and Konovalov were on the panel, along with Kristjan Kuurme, secretary of political affairs for the Estonian Embassy, and Karl Altau, of the Joint Baltic American National Committee.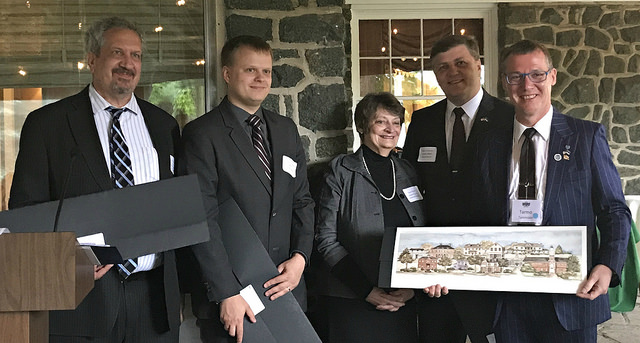 The panelists that participated in the open discussion entitled 'Living on the Russian Border' that took place in Harford Community College (from left): Joint Baltic American National Committee Managing Director Karl Altau, secretary of political affairs for the Estonian Embassy Kristjan Kuurme, representative of the Bel Air History Commission, Narva City Deputy Mayor Vjatseslav Konovalov, and Narva Mayor Tarmo Tammiste. (A photo by Jim Lockard).
Sterling called it "a very open, robust discussion" that lasted about two hours.
The topic was billed as "Living on the Russian Border," but Sterling said Narva's mayor and deputy mayor dismissed the question of potential aggression from Russia "quite handedly."
She said Russia and Estonia have been "neighbors forever," and they have developed strong economic ties.
Two strongholds, Narva Castle and the Russian Ivangorod fortress, face each other across the river, according to the Narva city website.
"They feel very comfortable in their role and being on that border," Sterling said. "Despite having the two castles staring at each other across the river, they don't feel that hostility."
Categories: None
/