Shopping Cart
Your Cart is Empty
There was an error with PayPal
Click here to try again
Thank you for your business!
You should be receiving an order confirmation from Paypal shortly.
Exit Shopping Cart
Maryland Estonia Exchange Council, Inc.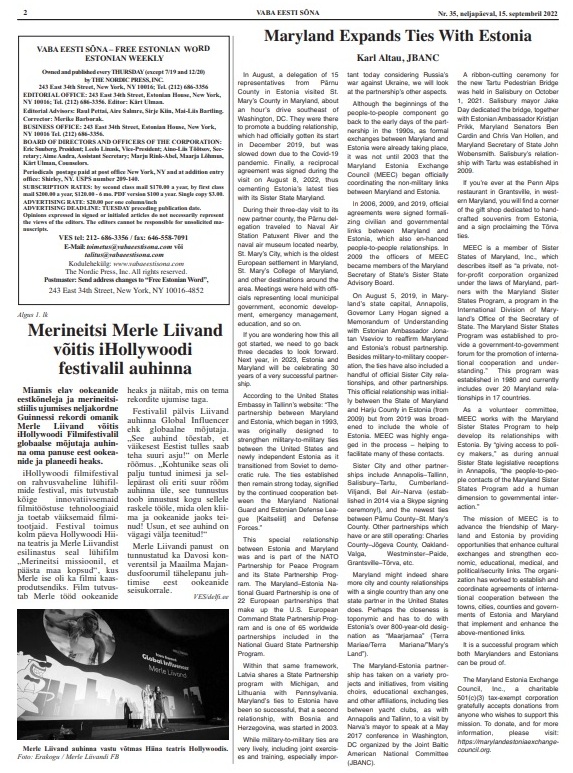 By Karl Altau (published in Vaba Eesti Sõna/Estonian Free Word on September 15, 2022)

In August, a delegation of 15 representatives from Pärnu County in Estonia visited St. Mary's County in Maryland, about an hour's drive southeast of Washington, DC. They were there to promote a budding relationship, which had officially gotten its start in December 2019, but was slowed down due to the Covid-19 pandemic. Finally, a reciprocal agreement was signed during the visit on August 8, 2022, thus cementing Estonia's latest ties with its Sister State Maryland.

During their three-day visit to its new partner county, the Pärnu delegation traveled to Naval Air Station Patuxent River and the naval air museum located nearby, St. Mary's City, which is the oldest European settlement in Maryland, St. Mary's College of Maryland, and other destinations around the area. Meetings were held with officials representing local municipal government, economic development, emergency management, education, and so on.
If you are wondering how this all got started, we need to go back three decades to look forward. Next year, in 2023, Estonia and Maryland will be celebrating 30 years of a very successful partnership.
According to the United States Embassy in Tallinn's website: "The partnership between Maryland and Estonia, which began in 1993, was originally designed to strengthen military-to-military ties between the United States and newly independent Estonia as it transitioned from Soviet to democratic rule. The ties established then remain strong today, signified by the continued cooperation between the Maryland National Guard and Estonian Defense League [Kaitseliit] and Defense Forces."
This special relationship between Estonia and Maryland was and is part of the NATO Partnership for Peace Program and its State Partnership Program. The Maryland–Estonia National Guard Partnership is one of 22 European partnerships that make up the U.S. European Command State Partnership Program and is one of 65 worldwide partnerships included in the National Guard State Partnership Program.
Within that same framework, Latvia shares a State Partnership program with Michigan, and Lithuania with Pennsylvania. Maryland's ties to Estonia have been so successful, that a second relationship, with Bosnia and Herzegovina, was started in 2003.
While military-to-military ties are very lively, including joint exercises and training, especially important today considering Russia's war against Ukraine, we will look at the partnership's other aspects.
Although the beginnings of the people-to-people component go back to the early days of the partnership in the 1990s, as formal exchanges between Maryland and Estonia were already taking place, it was not until 2003 that the Maryland Estonia Exchange Council (MEEC) began officially coordinating the non-military links between Maryland and Estonia.
In 2006, 2009, and 2019, official agreements were signed formalizing civilian and governmental links between Maryland and Estonia, which also enhanced people-to-people relationships. In 2009 the officers of MEEC became members of the Maryland Secretary of State's Sister State Advisory Board.
On August 5, 2019, in Maryland's state capital, Annapolis, Governor Larry Hogan signed a Memorandum of Understanding with Estonian Ambassador Jonatan Vseviov to reaffirm Maryland and Estonia's robust partnership. Besides military-to-military cooperation, the ties have also included a handful of official Sister City relationships, and other partnerships. This official relationship was initially between the State of Maryland and Harju County in Estonia (from 2009) but from 2019 was broadened to include the whole of Estonia. MEEC was highly engaged in the process – helping to facilitate many of these contacts.
Sister City and other partnerships include Annapolis-Tallinn, Salisbury-Tartu, Cumberland-Viljandi, Bel Air-Narva (established in 2014 via a Skype signing ceremony!), and the newest ties between Pärnu County-St. Mary's County. Other partnerships which have or are still operating: Charles County-Jõgeva County, Oakland-Valga, Westminster-Paide, Grantsville- Tõrva, etc.
Maryland might indeed share more city and county relationships with a single country than any one state partner in the United States does. Perhaps the closeness is toponymic and has to do with Estonia's over 800-year-old designation as "Maarjamaa" (Terra Mariae/Terra Mariana/"Mary's Land";).
The Maryland-Estonia partnership has taken on a variety of projects and initiatives, from hosting visiting choirs, facilitating educational exchanges, and other affiliations, including ties between yacht clubs, as with Annapolis and Tallinn, and to organizing a visit by Narva's mayor to speak at a May 2017 conference in Washington, DC held by the Joint Baltic American National Committee (JBANC).
A ribbon-cutting ceremony for the new Tartu Pedestrian Bridge was held in Salisbury on October 1, 2021. Salisbury mayor Jake Day dedicated the bridge, together with Estonian Ambassador Kristjan Prikk, Maryland Senators Ben Cardin and Chris Van Hollen, and Maryland Secretary of State John Wobensmith. Salisbury's relationship with Tartu was established in 2009.
If you're ever at the Penn Alps restaurant in Grantsville, in western Maryland, you will find a corner of the gift shop dedicated to hand-crafted souvenirs from Estonia, and a sign proclaiming the Tõrva ties.
MEEC is a member of Sister States of Maryland, Inc., which describes itself as "a private, not-for-profit corporation organized under the laws of Maryland, partners with the Maryland Sister States Program, a program in the International Division of Maryland's Office of the Secretary of State. The Maryland Sister States Program was established to provide a government-to-government forum for the promotion of international cooperation and understanding." This program was established in 1980 and currently includes over 20 Maryland relationships in 17 countries.
As a volunteer committee, MEEC works with the Maryland Sister States Program to help develop its relationships with Estonia. By "giving access to policy makers," as during annual Sister State legislative receptions in Annapolis, "the people-to-people contacts of the Maryland Sister States Program add a human dimension to governmental interaction."
The mission of MEEC is to advance the friendship of Maryland and Estonia by providing opportunities that enhance cultural exchanges and strengthen economic, educational, medical, and political/security links. The organization has worked to establish and coordinate agreements of international cooperation between the towns, cities, counties and governments of Estonia and Maryland that implement and enhance the above-mentioned links.
It is a successful program which both Marylanders and Estonians can be proud of.
The Maryland Estonia Exchange Council, Inc., a charitable 501(c)(3) tax-exempt corporation gratefully accepts donations from anyone who wishes to support this mission. To donate, and for more information, please visit the MEEC website: https://marylandestoniaexchangecouncil.org/.
###
ANNAPOLIS, MD—Governor Larry Hogan today joined Ambassador Jonatan Vseviov of Estonia to enact a Memorandum of Understanding (MOU) between Maryland and Estonia. The agreement strengthens a years-long partnership focused on security and commits Maryland and Estonia to an exchange in a number of areas, including economic development, tourism, education, drug abuse prevention, and culture and arts. The MOU will last for five years, with the opportunity for renewal.
 
"The agreement which we are renewing today represents our shared commitment to the rule of law, our continued focus on this important partnership, and our strategic cooperation on defense and economic development," said Governor Hogan. "I want to congratulate and express my appreciation to everyone who has worked so hard to make this MOU signing possible."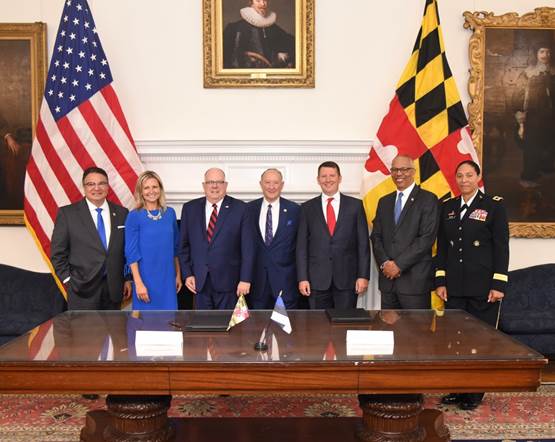 The MOU signed today renews a nine-year sister state relationship between Maryland and Harju County, Estonia that ended due to the recent restructuring of Estonian municipal governments. In addition to the sister state relationship, Maryland's sister city relationships with Estonia include Annapolis and Tallinn, Westminster and Paide, and Salisbury and Tartu.
 
"When the Estonian county government structure changed, affecting the Maryland-Harju sister state relationship, we knew that it was essential to reaffirm the excellent partnership between Maryland and Estonia," said Maryland Secretary of State John Wobensmith.
 
The ties between Maryland and Estonia began in the early 1990s with the State Partnership Program between the Estonian Defense League and the Maryland National Guard. The Maryland Military Department and Estonian War Museum have also maintained a Memorandum of Understanding since 2015.
 
Throughout the decades, bilateral projects have ranged from military exchanges to arts and culture programming as well as science and technology. In 2017, Lieutenant Governor Boyd Rutherford led a trade mission to Estonia focused on e-government and cyber security. Maryland and Estonia have also maintained the National Guard State Partnership Program currently championed by Major General Linda Singh. These government-to-government relationships have also led to university partnerships, including exchange programs with students at Salisbury University, the University of Maryland Eastern Shore, and the University of Tartu.
 
-###-
This press release was issued by the Office of the Governor of Maryland on August 5th, 2019.
On Friday April 12th, 2019 the Maryland National Guard hosted its 14th Annual Unity Day in Baltimore, Maryland. The historical 5th Regiment Armory was buzzing as attendees were greeted by smiles and brochures directing them to the table displays of all the sister-states in attendance. A ceremonial Honor Guard initiated the event with a song played on the bag-pipes, the National Anthem was sung, and Major General Linda Singh of the Maryland National Guard gave everyone a warm welcome. Throughout the morning and early afternoon a special sequence of events and performances took place showcasing cultural displays and ethnic foods from sister-states. Notably, "Kabujalake" - a folk dancing group from Paide, Estonia, put on not one but two tremendous performances. At the end of the second performance, the group even called for participants from the audience for "Kolonntants"! It was a wonderful afternoon celebrating the diversity and friendship of Maryland and it's sister-states.
Image: The Kabujalake folk dance group dressed in traditional "rahvariided" or folk costume.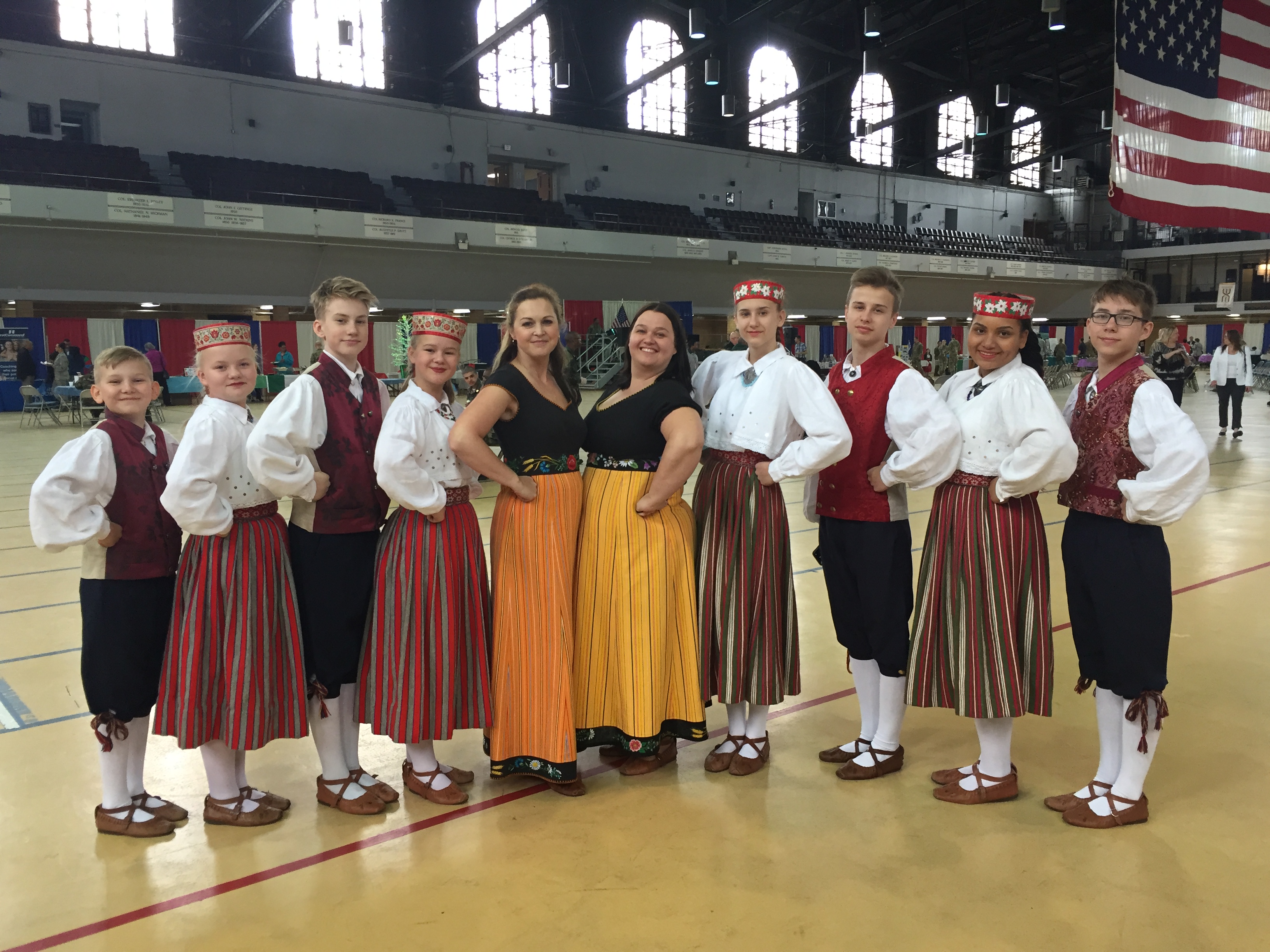 /